My name is Lisa Bull I am proud to be a Braveheart Woman.
Since 2009 I have found true sisterhood, support and love within the Braveheart community's.
I am healing my own heart, and my voice as I am coming out of an injury that almost keep me from living my life to its fullest with ease, joy and abundant love for myself and for all of us.
You can read my blogs that will testify to where I have been and how far I have come, to be here now asking for your support.
Here is a link to my profile on the Braveheart Women's Website.
~♥~ http://www.braveheartwomen.com/zaisho
That is why I am giving back to this incredible vision that we are pioneering by going to Jerusalem.
Honoring Our Palestinian and Israeli Braveheart Sisters.
For coming out of Conflict and Into Harmonious Collaboration and Unity as One Body of True Leaders of their community's and of the World.
This fundraising event is being created to help you understand how you can be a part of an amazing journey.
A mission has been planned for a group of Braveheart Women to visit Jerusalem, this trip will begin on October 22, 2012.
Your contributions will benefit the BraveHeart Women Foundation Global Vision.
This project will grow 10 fold in the next 2 years. Pioneering this amazing trip is the first step toward shifting our heart with ease, and with more Joy and Love in our Hearts for ourselves and for all of Us on Our Mother Earth.
This is our time. Please be generous and know you are making a difference.
If I do not meet my goals know that your funds will go to help with these efforts to continue to support women healing their voices and claiming their place in the world in a good way.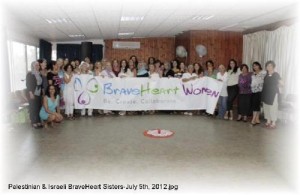 We are pioneering our efforts to help bring harmony as we are collaborating with our Palestinian and Israeli Braveheart Sisters.
~♥~ These are strong women
~♥~ Coming out of conflict
~♥~ Uniting together
~♥~ Building a more prosperous life
~♥~ For them selves and for their families
~♥~ Their community and their larger community's
As a part of our Braveheart Global Community we are supporting their incredible strength and courage of their heart in healing and owning their voices.
We are lifting ours with them in unity to celebrate the healing that is underway with ease of each one of us.
There will be two documentaries filmed of this Historic and Herstoric Experience. One of which will be shown around the world in 2014.
The film will show nearly 1,000 women from the United States, Israel and Palestine engaging in Oxytocin Circles, demonstrating how even sworn enemies can come together in peace.
Here is a link to the previous Indiegogo Campaign that I am very grateful for the support that I have already received.
Zaisho's BraveHeart Flight Fund
By Lisa Bull
Please help me fund my flight to Jerusalem as one of 33 western women to collaborate with our Palestinian and Israeli Women in October.
Lisa Bull's Role: Receiver of funds to fly
I would have never believed that I would be going to Jerusalem and with the help that I received from my first Indiegogo campaign I was able to purchase my tickets to go with my Braveheart sisters to Jerusalem.
I am leaving on the 22nd…this I know for sure.
I am thanking you for taking the time to read my post here today asking for your generous support to fuel our vision.
~♥~ To help heal the voices of the women that are needing support!
~♥~ To stand up and claim their place in the world!
~♥~ I am grateful beyond words for you helping me…as I am claiming my place in the world and owning my voice with Ease…Joy…and Love in my heart for all of US!
~♥~ Other Ways You Can Help ~♥~
Using the share tools you can share this link with those that you believe…would resonate with what I am working towards and would be greatly appreciated ~♥~