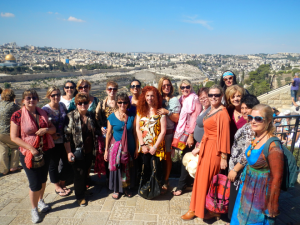 When I first heard about the BraveHeart Global Vision… I knew in my heart of hearts that I was on board with it. It did not matter if I was going to go or just going to help raise fuel for this vision. I knew on such a deep level of commitment that it resonated with my heart and soul.
I received a call inviting me to go this October 22 to the 29th.
I said "Yes I am called to go to Jerusalem and hold the Energy. With Love & Joy in my heart with a whole lot of Ease."
It has been one of the most important decision I have ever made in my adult life. To follow my heart. With no fears. To meet up with all my Braveheart Sistars, who also put their fears behind them and went with their hearts…has healed that place of longing for family to be near me and around me. I hold each and every one of you in my heart of hearts forever.
Ellie Drake has pure love in her heart…beauty and grace… to have envisioned this dream. To follow through with it took great Courage and Determination. I admire these quality's she possess and know that it takes that to do something that will help shift our world to a Higher Vibration of LOVE.
I love it that all of us got on board and went with the flow of it. We had to come from that place of knowing…of true certainty…and full trust that what we were about to do was a new way of creating space…for others to come together, to collaborate for a brighter more sustainable future.
I would do it again and again for the outcome that was achieved.
I am 100% behind this vision and for future projects such as this.
I absolutely loved going to Jerusalem and all the people who put their hearts and souls into every aspect of making it the true Success that it has been on so many levels.
Being a witness to the incredible SHE Energy that helped transform each and everyone of us… that went on this experience of a lifetime.
It was a miracle that happened in a twinkling of an eye…The Shift that took place in all of us who participated was amazingly beautiful.
I hold such love for each of us in my heart that can never be taken away. It just keeps on growing ever expanding my heart with each harmony breath I take. I know I am on the right path and walking in the direction of my hope dreams and vision. Awake and fully participating for what ever is next to be achieved for my higher purpose in this life time.
We are given opportunity's each and everyone of us. Most often fear gets in the way. It is up to us to determine if it is right for us.
No one can make that decision for us. It is up to you to choose.
For me I made the very best decision to go with my heart. To see in the eyes of our Braveheart Harmony Sisters the pure love within their hearts and souls has been the most magnificent gift I have ever received.
To have witnessed the seeds that were planted… take hold and begin to flourish right before our eyes… brings happy tears of love and joy to mine.
Let your heart speak to you and follow it towards your destiny what ever that may be…its up to you.
I will be at Rise 2012 for I would not miss it for the world.
I hope to see you there.
Blessings of Love and Light,
Lisa